Date: Tuesday 22nd March 2016
Time: 9:00am - 1.00pm
Venue: The Grange Tower Bridge Hotel, 45 Prescot Street, London E1 8GP
REGISTRATION IS NOW CLOSED
Overview
Improving the customer experience remains at the top of network operators' strategic plans. From making it a c-suite priority and simplifying legacy systems to developing new omni channel platforms and working out how best to measure customer satisfaction, it is a subject that touches all parts of the business.
European Communications' fifth annual customer experience seminar brings together a range of industry experts to discuss the latest best practice in this key operational area.
Mark Gait, Head of Customer Service at O2 UK, which earlier this month was crowned best mobile operator for customer service, will outline how they are delivering a best-in-class service.
Doğuş Kuran, Chief Customer Officer at Turkcell, will outline the converged operator's customer experience strategy.
The CEO of the UK's Institute of Customer Service will discuss why telecoms is still performing poorly versus other sectors and what it needs to do to improve. There will be presentations from Amdocs and in-gage, while European Communications Editor Marc Smith will highlight key findings from our latest industry research.
This free-to-attend, half-day event is a great chance to learn from leaders in the field and network with executives from across the telecoms industry. You can read more about the speakers and the agenda in the tabs above.
The event takes place at the Grange Hotel, Tower Hill, London, from 9am-1pm on 22 March 2016.
To discuss sponsorship opportunities contact the sales team on +44 (0)207 933 8979 or email christine.felton@eurocomms.com
Agenda
9:00
Registration, networking breakfast
9.30
Jo Causon, CEO of the Institute of Customer Service
Jo will discuss why telecoms is still performing poorly versus other sectors and what it needs to do to improve
9.50
Marc Smith, Editor, European Communications
Marc will present the key findings from the fifth annual European Communications Customer Experience survey
10.10
Doğuş Kuran, Chief Customer Officer, at Turkcell
Doğuş, who was appointed to the role last October, will outline the operator's customer experience strategy
10.40
Networking coffee break
11.15
Mark Gait, Head of Customer Service, O2 UK
Mark will outline how the business went about the process of digital transformation, from strategy through implementation of their new services – including web chat, fault diagnostics, a smartphone App, and social media. He will share the impact that these new channels have had on customer behaviour and the positive outcomes they've realised
11.35
Rod Sheriff, Founder CEO, in-gage 
The Keys to Growth - Reframing the service centre discussion in the executive team. Rod will share insights on how to change the conversation from one of cost to value creation. Then once there is board or exec understanding, how to accelerate, with the use of digital, to change behaviours and demonstrate this value from the service agent conversation to the board
12.10
Vincent Rousselet, Vice President of Market Insight and Strategy, Amdocs
Vincent will share insights on the implications of the digital revolution from both the consumer and the service provider perspectives, based on exclusive new global research. For example, what aspects of customer experience are consumers now willing to pay more for – or what would cause them to switch providers? What are service providers' investment priorities when it comes to digital transformation?  
12.30
Traian Ionescu, Strategic Business Development Director, Ascom Network Testing
13.00
Networking lunch
*We will be adding to the agenda regularly, so please check back for further information.
Speakers
Mark Gait, Head of Customer Service, O2 UK

Mark has responsibility for the Customer Service delivery across Consumer and Business O2 customers. Prior to joining O2 Mark has worked within the Contact Centre Industry for over 20 years working with Brands that include Vodafone, BT, Sainsbury's and the public sector. With the growth of Contact Centre Outsourcing he has also gained broad experience in developing and leading successful partnerships, delivering customer service and sales goals, and working successfully with Executive Teams to deliver joint initiatives.
Doğuş Kuran, Chief Customer Officer, at Turkcell


Doğuş Kuran, joined Turkcell as Senior Vice President of Customer Services Function as of October 1, 2015. He started his career at Alcatel-Teletaş. After holding executive positions in sales, business development and internet solutions consultancy within Cisco Systems and Microsoft Turkey organizations, he served as Chief Sales and Operations Officer at Ericsson Turkey. Prior to his position in Turkcell, he worked as a partner at the Accenture Turkey Office responsible for the telecommunication, media and technology sectors. Mr. Kuran graduated from the Istanbul Technical University, Electrical and Electronics Engineering department in 1995. He received his Master's degree in Management Engineering from Portland State University in 1997

Marc Smith, Editor, European Communications



Marc is a journalist and editor with over 10 years experience in a wide variety of business sectors. Since helping to re-launch European Communications in 2011, he has specialised in the strategic direction of the telecoms industry, looking at how European telcos need to change if they are to prosper in this challenging yet exciting industry. European Communications serves communications service providers and their suppliers with news, exclusive interviews and insightful features. It covers the latest developments in operator strategy, back office, networks and content and services. European Communications has been a leading voice in the telecoms sector for over 20 years.


Jo Causon, CEO of the Institute of Customer Service

Jo Causon took up her appointment as chief executive of The Institute in March 2009 having been director of marketing and corporate affairs at the Chartered Management Institute since July 2005. Jo previously held director roles in brand and business consulting and prior to that was both head of group marketing and strategic executive to the director-general at City & Guilds.

Under Jo's leadership The Institute has worked in partnership with its members and other stakeholders in realising the increased return on investment that excellent customer service can deliver and the role it can play as a motivator for those working within an organisation, enabling those organisations to keep their talent as well as their customers. Jo also believes that by working to develop customer service excellence organisations will not only survive the current challenging economic conditions but will also prosper and help to lift the UK out of recession earlier than would otherwise have been the case.
Rod Sheriff, Founder CEO, in-gage

Rod is the CEO of In-gage, he has 12 years experience leading service organisations through significant growth and won many awards for the customer experiences created, including best customer service in UK, Europe and the world across all sectors. After completing his MBA in Melbourne, Rod had the opportunity to work with world leading companies on customer experience design and operations. He has created innovative employee and customer experience programmes that have significantly increased the ROI of service operations in multiple industry sectors.
Vincent Rousselet - Vice President, Market Insight and Strategy, Amdocs.



With more than 20 years of strategic and operational marketing experience predominantly in IT and telecommunications, he is an experienced global marketer and strategist who has  worked with some of the world's most recognizable organizations and brands in Europe, America and Asia. Vincent is passionate about customers, who must be at the heart of strategy and transformation.
Traian Ionescu, Strategic Business Development Director, Ascom Network Testing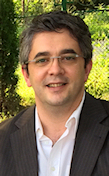 A 20 year wireless industry veteran and business development professional, Traian is the Strategic Business Development Director for Ascom Network Testing, where he assists the EMEA management with corporate strategy, M&A activities, and is responsible for the development of new solutions and portfolio coordination. Traian started his wireless career working for mobile operators, in various roles from network optimization to network operations and to new solutions validation & implementation. Later serving in positions of Sales and Product Management for Aircom International.  Traian spent four years working to bring ActixOne portfolio across Europe and African markets, and spent over a year working on the introduction of North American vendor Xceed in EMEA and APAC. Traian has been with Ascom Network Testing for four years.  Today Traian focuses on helping solve the challenges of capacity management that all commercial wireless operators face.
To discuss speaking opportunities please contact Justyn.gidley@eurocomms.com or call on +44(0)20 7933 8997

*More speakers may be added so please check back for updates!
Venue
The Grange Tower Bridge Hotel
This morning seminar conference will take place within the Grange Tower Bridge Hotel.
45 Prescot Street
London
E1 8GP
Nearest stations: Tower Hill (District and Circle lines), Fenchurch Street and Tower Gateway DLR.
View map 
Attendees
European Communications seminars are aimed at senior level decision-makers and managers at network operators.
The seminar is a must-attend for:
Business leaders and decision-makers (CEOs, CMOs, COOs, GMs, Presidents)
Technology executives and decision-makers (CTOs, CIOs, CSOs)
Strategy, operations and IT executives
You can view videos from previous Customer Experience seminars here.

The seminar provides an excellent opportunity to network with fellow professionals, share ideas and discuss the key trends affecting your role and the wider telecoms industry.
Register
What does free registration include?
Hear the latest innovations and strategies in customer experience
Put your questions to our panel of experts
Ample networking opportunities with your peers from the telco community
Catering and refreshments throughout the day
Access to the post event presentations
To discuss sponsorship opportunities contact the sales team on +44 (0)207 933 8979 or email christine.felton@eurocomms.com
Sponsors and Media Partners: